Laboratory of Jolene Windle, Ph.D.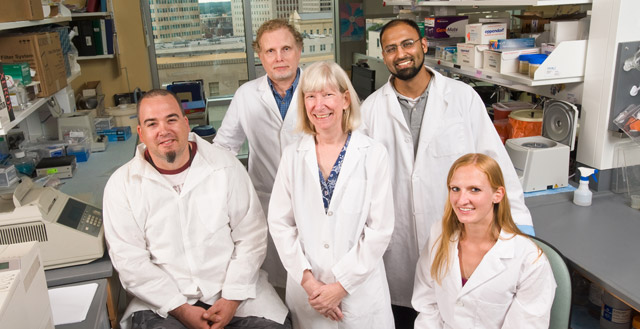 Research projects
A primary research focus in Dr. Windle's laboratory is the use of genetically engineered mouse models to understand the pathogenesis of human disease.
A major area of interest involves analyzing the contribution of specific genetic alterations to various disease states in the bone involving abnormal osteoclast function, including Paget's disease and myeloma bone disease. This group is investigating the role of the p62 (SQSTM1) gene in the increased formation and activity of osteoclasts seen in these bone disorders.
The p62 gene functions in multiple cytokine signaling pathways that lead to NF-ĸB activation in osteoclasts (including TNF-α, RANKL and IL-1), and mutations in the ubiquitin-associating (UBA) domain of p62 have been shown to contribute to the development of Paget's disease. Dr. Windle's group has developed both transgenic mice and, more recently, a p62P394L knock-in mouse, to accurately model this disease and investigate the mechanism by which p62 mutation contributes to its etiology.
These studies have demonstrated that mutations in the UBA domain function dominantly to stimulate NF-ĸB activation, and current studies are aimed at elucidating the mechanisms involved.
Additional studies are aimed at determining whether expression of mutant p62 in bone marrow stromal cells also contributes to the etiology of Paget's disease. Studies are also ongoing to determine whether blocking p62 or other components of this signaling pathway can be used to impede the development of Paget's disease or multiple myeloma bone disease.
As part of these studies, the team has developed mice that express luciferase specifically in osteoclasts and their precursors, and these are being interbred with various other lines to facilitate the analysis of osteoclast formation in vivo and in vitro.
In addition to these projects, Dr. Windle directs the VCU Transgenic/Knockout Mouse Core as well, which provides a wide range of services related to the production of genetically modified mice to VCU investigators. She is also involved in a number of collaborations with other members of the VIMM to develop transgenic and knockout mouse models for assessing the role of various genes in tumorigenesis (e.g., AEG-1), and to develop novel mouse models for enhanced optical imaging of tumor development and metastasis.
Laboratory members
Greg Campbell
Transgenic Knockout Mouse Core Manager
Mark Subler, Ph.D.
Assistant Professor
Pamela Weller
Research Assistant
Key publications
Enga RM, Rice AC, Weller P, Subler MA, Lee D, Hall CP, Windle JJ, Beardsley PM, van den Oord EJ, McClay JL. Initial characterization of behavior and ketamine response in a mouse knockout of the post-synaptic effector gene Anks1b. Neuroscience Letters. 2017 Feb 22;641:26-32. PMCID: PMC5305419
Jariwala N, Rajasekaran D, Mendoza RG, Shen XN, Siddiq A, Akiel MA, Robertson CL, Subler MA, Windle JJ, Fisher PB, Sanyal AJ, Sarkar D. Oncogenic role of SND1 in development and progression of hepatocellular carcinoma. Cancer Res. 2017 Jun 15;77(12):3306-3316. PMCID: PMC5488274.
Srivastava J, Robertson CL, Ebeid K, Dozmorov M, Rajasekaran D, Mendoza R, Siddiq A, Akiel MA, Jariwala N, Shen XN, Windle JJ, Subler MA, Mukhopadhyay ND, Giashuddin S, Ghosh S, Lai Z, Chen Y, Fisher PB, Salem AK, Sanyal AJ, Sarkar D. A novel role of astrocyte elevated gene-1 (AEG-1) in regulating non-alcoholic steatohepatitis (NASH). Hepatology. 2017 Aug;66(2):466-480. PMCID: PMC5519412.
Zhang Y, Liu H, Li W, Zhang Z, Zhang S, Teves ME, Stevens C, Foster JA, Campbell GE, Windle JJ, Hess RA, Pazour GJ, Zhang Z. Intraflagellar transporter protein 140 (IFT140), a component of IFT-A complex, is essential for male fertility and spermiogenesis in mice. Cytoskeleton, Dec 2017 (Epub ahead of press).
Akiel M, Guo C, Li X, Rajasekaran D, Mendoza RG, Robertson CL, Jariwala N, Yuan F, Subler MA, Windle J, Garcia DK, Lai Z, Chen HH, Chen Y, Giashuddin S, Fisher PB, Wang XY, Sarkar D. IGFBP7 Deletion Promotes Hepatocellular Carcinoma. Cancer Res. 2017, in press.