Laboratory of Devanand Sarkar, M.B.B.S, Ph.D.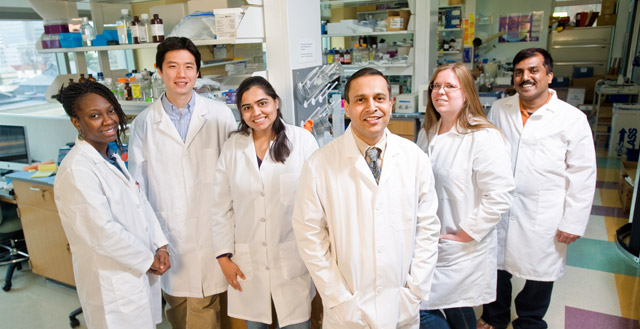 Research projects
The research in Dr. Sarkar's laboratory focuses on understanding the molecular mechanism of carcinogenesis and developing novel, targeted anti-cancer therapy based on the garnered knowledge.
The cancer model used is primarily hepatocellular carcinoma (HCC) since there is a worldwide epidemic of HCC and, unlike other cancers, the incidence of HCC in Western countries is rising. The mortality of HCC parallels its incidence, since it is highly resistant to standard radio- and chemotherapy. Understanding the molecular mechanism of HCC will facilitate development of novel, targeted therapies to counteract this fatal malady.
Recent studies in the lab reveal that the oncogene astrocyte elevated gene-1 (AEG-1) is overexpressed at mRNA and protein levels in more than 90 percent of HCC patients, and in a subset of patients, the AEG-1 gene itself is amplified. Overexpression of AEG-1 in poorly aggressive, non-tumorigenic HCC cells results in highly aggressive angiogenic and metastatic tumors in nude mice. Conversely, siRNA inhibition of AEG-1 in highly aggressive HCC cells significantly retards in vivo tumorigenesis, angiogenesis and metastasis.
AEG-1 activates multiple pro-tumorigenic signal transduction pathways, such as NF-ĸB, PI3K/Akt, MEK/ERK and Wnt, and it profoundly modulates global gene and protein expression profiles, leading to changes in expression of proteins regulating proliferation, cell cycle, invasion, angiogenesis, chemoresistance, metastasis and senescence.
AEG-1 is a protein with a transmembrane domain, multiple nuclear localization signals and no other known domains or motifs. It is localized in the cell membrane, nucleus and nucleolus, cytoplasm and ER. In each localization, AEG-1 interacts with specific proteins that confer the pleiotrophic properties to AEG-1. It is suggested that AEG-1 might be a scaffold protein favoring formation of multi-protein complexes.
Dr. Sarkar's group is trying to understand the molecular mechanism of AEG-1's function by identifying its downstream genes/proteins (determined by Affymetrix microarray and proteomic analyses) and interacting proteins (determined by yeast two-hybrid assay and co-immunoprecipitation followed by mass spectrometry), and by analyzing transgenic mice with hepatocyte-specific overexpression of AEG-1 and conditional knockout mice of AEG-1.
Laboratory members
Nidhi Himanshu Jariwala
Graduate Student
Saranya Chidambaranathan-Reghupaty
Graduate Student
Rachel Mendoza
Laboratory and Research Manager
Key publications
Srivastava J, Robertson CL, Ebeid K, Dozmorov M, Rajasekaran D, Mendoza R, Siddiq A, Akiel MA, Jariwala N, Shen X-N, Windle JJ, Subler MA, Mukhopadhyay ND, Giashuddin S, Ghosh S, Lai Z, Chen Y, Fisher PB, Salem AK, Sanyal AJ, Sarkar D. A novel role of Astrocyte elevated gene-1 (AEG-1) in regulating non-alcoholic steatohepatitis (NASH). Hepatology. 2017, 66: 466-480. PMCID: PMC5519412
Jariwala N, Rajasekaran D, Mendoza RG, Shen X-N, Siddiq A, Akiel MA, Robertson CL, Subler MA, Windle JJ, Fisher PB, Sanyal AJ, Sarkar D. Oncogenic role of SND1 in development and progression of hepatocellular carcinoma. Cancer Res. 2017, 77: 3306-3316. PMCID: PMC5488274
Akiel M, Guo C, Li X, Rajasekaran D, Mendoza RG, Robertson CL, Jariwala N, Yuan F, Subler MA, Windle J, Garcia DK, Lai Z, Chen HH, Chen Y, Giashuddin S, Fisher PB, Wang X-Y, Sarkar D. IGFBP7 deletion promotes hepatocellular carcinoma. Cancer Res. 2017, 77: 4014-4025. PMID: 28619711
Kegelman TP, Wu B, Das SK, Talukdar S, Beckta JM, Hu B, Emdad L, Valerie K, Sarkar D, Furnari FB, Cavenee WK, Wei J, Purves A, De SK, Pellecchia M, Fisher PB. Inhibition of radiation-induced glioblastoma invasion by genetic and pharmacological targeting of MDA-9/Syntenin. Proc Natl Acad Sci U S A. 2017, 114: 370-375. PMCID: PMC5240699
Pradhan AK, Talukdar S, Bhoopathi P, Shen XN, Emdad L, Das SK, Sarkar D, Fisher PB. mda-7/IL-24 mediates cancer cell-specific death via regulation of miR-221 and the beclin-1 axis. Cancer Res. 2017, 77: 949-959. PMCID: PMC5313338
Hu B, Emdad L, Kegelman TP, Shen XN, Das SK, Sarkar D, Fisher PB. Astrocyte elevated gene-1 regulates -catenin signaling to maintain glioma stem-like stemness and self-renewal. Mol Cancer Res. 2017, 15: 225-233. PMID: 27903708
Sarkar D. Statins as inhibitors of lung cancer bone metastasis. eBiomedicine. 2017, 19: 6-7. PMCID: PMC5440617
Emdad L, Das SK, Wang XY, Sarkar D, Fisher PB. Cancer Terminator Viruses (CTV): a better solution for viral-based therapy for cancer. J Cell Physiol. 2017, in press. PMID: 29278667
Pradhan AK, Emdad L, Das SK, Sarkar D, Fisher PB. The enigma of miRNA regulation in cancer. Adv Cancer Res. 2017, 135: 25-52.