Laboratory of Charles E. Chalfant, Ph.D.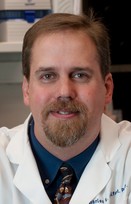 VIMM Affiliate Member
Professor and Chair
Department of Cell Biology, Microbiology and Molecular Biology
University of South Florida
Research Focus/Projects
The Chalfant Laboratory has historically focused on two major, but diverse areas of basic science in regards to Cell signaling, Cell Biology, Microbiology, and Molecular Biology. Specifically, the Chalfant Laboratory studies mechanisms of cell signaling associated with both bioactive lipids and RNA splicing with a focus on both basic science mechanisms as well as in many cases clinical translation. In regards to their bioactive lipid research, these studies have recently exploded into numerous sectors with clinical application. For example, the Chalfant Laboratory initially described the lipid:protein interaction of the sphingolipid, ceramide-1-phosphate (C1P), with the phospholipase, cPLA2a. This initial basic research finding has now advanced to a possible new therapeutic target to treat sepsis as well as a therapeutic target to drive rapid wound healing for both acute wounds and chronic wounds. Through this research area, the Chalfant Laboratory then began the global lipidomics initiative at VCU to rapidly analyze the downstream bioactive lipids associated with both this lipid:protein interaction and various human disease states. Through this initiative, clinicians were brought together with basic scientists as bioactive lipids are most proximal to clinical phenome, which led recently to numerous new findings in cardiovascular disease and treatments, sepsis, traumatic injury, and peripheral wound healing. They also continue our strong basic research in this area by exploring how bioactive lipids are synthesized and transported, which led to a co-corresponding author manuscript in 2013 published in Nature on the ceramide-1-phosphate transporter (CPTP).
As to RNA splicing research of the Chalfant laboratory, their main focus has been cancer cell signaling specializing in non-small cell lung cancer (NSCLC). Due to the limited number of researchers in this area, this research continues to remain innovative and underexplored. In this regard, the Chalfant Laboratory has identified key RNA splicing events and signaling mechanisms mediating the tumor maintenance of NSCLC cells. For example, the caspase 9 splice variant, caspase 9b, was shown by the Chalfant laboratory to interact with cIAP1 to activate the NF-kB pathway in NSCLC cells. These findings have been further expanded to a number of RNA splicing events via deep RNA sequencing to identify specific RNA splicing signatures for individual NSCLC patients, which are linked to therapeutic sensitivity.
In another exciting project from just a basic science point of view, the mechanistic research from the laboratory is undertaking studies to validate the "unmasking hypothesis". For years, researchers in the RNA splicing field overlooked the presence of multiple RNA binding domains (RBDs) in RNA trans-factors. Essentially, SELEX was used to identify high affinity binding sites for a specific RNA trans-factor, and then a dogmatic scientific view wasfounded: One RNA trans-factor, one optimal binding preference. They simply asked the question: "Why is the RNA trans-factor, hnRNP L, binding to a non-standard RNA cis-element in NSCLC cells?" The asking of this straightforward question led to the identification of a specific phosphorylation site that "unmasks" C-terminal RBDs in hnRNP L to bind a separate RNA sequence with high affinity. The RNA trans-factor retains its constitutive RNA splicing function, but also has additional regulatory abilities for a separate set of RNA splicing events important in cell survival and tumor maintenance. These findings are expected to drive a complete paradigm shift in cell signaling and RNA splicing. Furthermore from a therapeutic standpoint, the targeting of just the activated forms of RNA trans-factors is now possible. Importantly, the laboratory has also extended their RNA splicing research into different cancers (e.g. breast cancer and anoikis resistance) as well as cardiovascular disease and type 1 diabetes.
Key publications
Ngoc T. Vu,Margaret A. Park, Michael D. Shultz, Amy C. Ladd,and Charles E. Chalfant# (2016) Caspase-9b directly interacts with cIAP1 to drive an agonist-independent activation of the NF-kB pathway and the enhancement of tumorigenicity in non-small cell lung cancer. Cancer Res. 2016 May 15;76(10):2977-89. doi: 10.1158/0008-5472.CAN-15-2512. Epub 2016 Mar 29. PubMed PMID: 27197231; PubMed Central PMCID: PMC4874651.
Shapiro BA, Shultz MD, Vu NT, Shultz JC, Hoeferlin LA, Yacoub A, Dash R, Dent P, Fisher PB, Chalfant CE# (2016) MDA-7 exerts cytotoxicity on NSCLC cells by altering the alternative splicing of Bcl-x pre-mRNA. Journal of Biological Chemistry (JBC/2016/737569), PMID: 27519412 in press.
Ryan M. Johnson, Ngoc Vu, Kellie Archer, Amanda Getty, Charles E. Chalfant#, Margaret A. Park. The alternative splicing of CPEB2 drives anoikis resistance and metastasis in triple negative breast cancer.J. Biol. Chem. 2015 Oct 16;290(42):25717-27. doi: 10.1074/jbc.M115.671206. Epub 2015 Aug 24. PubMed PMID: 26304115.
Hoeferlin, L.A. Huynh, Q.K., Mietla, J.A., Sell, S.A. Tucker, J., Chalfant, C.E# and Wijesinghe, D.S. The Lipid Portion of Activated Platelet-Rich Plasma Significantly Contributes to Its Wound Healing Properties. Adv Wound Care (New Rochelle). 2015 Feb 1;4(2):100-109. PubMed PMID: 25713752; PubMed Central PMCID: PMC4322089.
Wijesinghe DS, Brentnall M, Mietla JA, Hoeferlin LA, Diegelmann RF, Boise LH, Chalfant CE#. Ceramide kinase is required for a normal eicosanoid response and the subsequent orderly migration of fibroblasts. J Lipid Res. 2014 May 13;55(7):1298-1309. PubMed PMID: 24823941; PubMed Central PMCID: PMC4076082.
Dhirendra Simanshu, Ravi Kanth Kamlekar, Dayanjan S. Wijesinghe, Xianqiong Zou, Julian G. Molotkovsky, Lucy Malinina, Edward H. Hincliffe, Charles E. Chalfant#*, Rhoderick E. Brown*, Dinshaw J. Patel* (2013) "A newly identified and structurally characterized ceramide-1-phosphate transfer protein regulates eicosanoid production" Nature, 500(7463):463-7 (* = co-senior author, equal contribution).
Vu NT, Park MA, Shultz JC, Goehe RW, Hoeferlin LA, Shultz MD, Smith SA, Lynch KW, Chalfant CE.# (2013) hnRNP U enhances caspase-9 splicing and is modulated by AKT-dependent phosphorylation of hnRNP L. J Biol Chem. 2013 Feb 8. [Epub ahead of print] PubMed PMID: 23396972.
Mietla, J.A., Wijesinghe, D.S., Hoeferlin, L.A., Shultz, M.D., and Chalfant, C.E# (2012) Characterization of ceramide kinase ablation models for eicosanoid biosynthesis. Profound effects on arachidonic acid metabolism. J. Lipid Res. 2013 Jul;54(7):1834-47. doi: 10.1194/jlr.M035683. Epub 2013 Apr 10. PubMed PMID: 23576683; PubMed Central PMCID: PMC3679386.
Shultz, J.C., Vu, N, Shultz, MD, Mba, U, Shapiro, BA, and Chalfant, C.E.# (2012) "The proto-oncogene PKCι regulates the alternative splicing of Bcl-x pre-mRNA" , Molecular Cancer Research, May;10(5):660-9. Epub 2012 Apr 20. PMID:22522453 [PubMed - in process] MCR Highlight Paper.
Goehe, R.W., Shultz, J.C., Murudkar, C., Usanovic, S., Lamour, N.F., Massey, D.H., Zhang, L., Camidge, D.R., Shay, J.W., Minna, J.D., and Chalfant, C.E.# (2010) hnRNP L regulates the tumorigenic capacity of lung cancer cells in mice via caspase 9 pre-mRNA processing. Journal of Clinical Investigation. 120(11):3923-39 (Impact Factor of 15.387).
Commentary: Shankarling G, Lynch KW. Living or dying by RNA processing: caspase expression in NSCLC. J Clin Invest. 2010 Nov 1;120(11):3798-801. doi: 10.1172/JCI45037. Epub 2010 Oct 25. PubMed PMID: 20972326; PubMed Central PMCID: PMC2965003.